When you email someone and reply to your message within minutes, do you know that feeling? That's the power of writing compelling copy for emails.
Email is a fundamental part of our lives. It's the first thing we check every morning, and it's how we communicate with friends and family and manage our work. The problem is that most people aren't good at writing emails. They don't know what to say, or they end up sounding too spammy. However, you can take a few simple steps to be a pro at email copywriting.
This article will show you how to become a professional email copywriter in 5 simple steps.
First, what is email copywriting?
In theory, email writing is no different from other forms of writing, but you need to express your message in a convincing way to get your recipients to take the action you want.
Email texts are also short (no more than one page) and require a conversational style. The challenge for all email writers, regardless of the recipient, is to create an open and read the message.
Other unique features of email copywriting:
Shortness
Compelling
Short message length
Clearly emphasize the link between the CTA and the subject heading
However, it is essential to remember that email copywriting can take many forms and formats.
There are two main categories of emails: transactional and engagement.
Transactional emails are directly related to the sale and its closure.
Engaging emails are more about grabbing the reader's attention by telling a story.
Thus, an email copywriter may be asked to write welcome emails, educational material, newsletters, brand stories, shopping cart abandonment reminders,limited-time campaigns, etc.
Now that we know what email copywriting is, here's everything you need to know about how to become an email copywriter.
Get as much copywriting experience as possible
Email copywriting is hard, so there's just no way to dive in headfirst. We all learn the art of good writing with time and experience, so make sure you're writing as much as possible, whether online content, blogs, marketing copy, etc. Agency like My Blog Poster is great place to start.
While a background in English or journalism can help when working in copywriting, it is not essential. It may be more beneficial to sign up for an email copywriting course. There are several options, including"How to Write emails That Sell" and IDM's "copywriting for Web and email."
Learn the basics of email marketing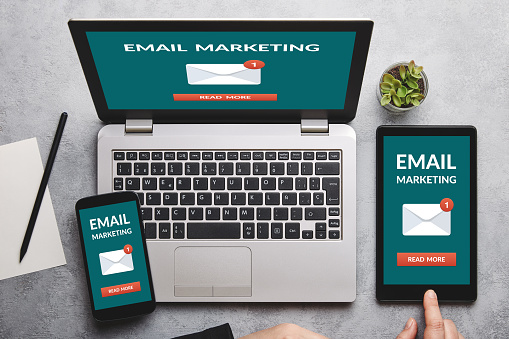 There are many ways to use email – from networking and brand awareness to product marketing and leadership development.
Therefore, it is crucial to understand the basics of email marketing to develop text that engages your audience appropriately.Email marketing basics
Defining your target audience: Your email must be relevant to be effective. Emails need to be effective. Therefore, when preparing an email, you need to understand the buyer persona and what they want. Once you understand this, you can adapt your writing accordingly.
Understand the customer's objectives: so you need to read them carefully to ensure that you are helping the customer to achieve better e-marketing results – leads, sales, customer loyalty, etc.
Provide recipients with a clear call to action: people scan emails, so the call to action must be easily recognizable, concise, and action-oriented. After all, you need to make it as easy as possible to make a purchase or contact you.
Understand to craft an email that works
To write a good email, you need to follow certain best practices regarding the subject and content of the email.
1. Be personal
If you want your email to be relevant, the content needs to be personal. An excellent way to do this is to pretend that you are writing an email to one person, such as a friend, family member, or client. What should you say to them if they were sitting across from you? Tell them what you want to share and explain what you want them to do.
2. Be brief and to the point
As we mentioned, people only read emails, so don't waste time writing a few hundred words. Get straight to the point. Don't feel that you have to write complete sentences and paragraphs; it is perfectly acceptable to use paragraphs, questions, and short sentences to get your point across.
3. Include a single call-to-action
It may be tempting to put a few CTAs in the email, hoping that subscribers will click on at the minimum one of them, but this will not work. If you give them so many buttons or links to click, likely, they will not click any of them.
Make sure the text is simple and contains one clear call to action. After all, no one has time to consider what action to take if too many.
4. Get the line right
As the title of an article or blog post, the subject line of an email should be exciting and relevant. Research shows that subject lines should be between 41 characters and 70 characters. Don't forget to use action words, as this will help recipients understand what you want them to do before reading the rest of the email. Phrases such as 'don't miss the opportunity and 'act now' are great examples to create a sense of urgency.
5. Choose your words carefully
Keep the conversation's tone and use the words "your" and "yours" frequently in your emails. This lets readers know that the email is about them, not you.
You should also focus on the benefits of the services you offer, not the features. When you talk about features, the focus is on you, your business, and your product.
When you talk about benefits, focus on how your product or service can enrich your subscribers' lives.
If you talk about benefits rather than features, your email will focus on your subscribers, not your company, and that's what readers want to see in their inbox.
Welcome letters are an excellent way to start things off on the right foot.
Gain experience as an email copywriter today
Email copywriting is one of the most in-demand jobs in digital marketing, and it's a great way to get your foot in the door in this industry. If you want to work with brands that are looking for someone who can write emails that get results, then email copywriting might be right up your alley!
Wrap up
Writing effective emails is hard, but once you've got the basics down, it's easy to keep improving your skills. Writing emails isn't just about crafting compelling messages – it's about understanding your audience and creating something that works for them.
If you're new to writing emails, make sure you practice before contacting customers. Can give you vital experience in writing different types of content, such as emails, blog posts, websites, and articles.
If you're interested, check it out by clicking on My Blog Poster
Read More: 10 Key Skills That Make You The Perfect Freelance Web Writer