Website designs can make or break an online business, that is so outdated they're not even worth visiting and are something no one wants to see. Technology changes at an incredibly fast pace.
Before you know it (or even if you do), what was once the next new thing is suddenly horribly old-fashioned.
As you look for trends and design styles that work, don't forget to also identify the ones that aren't working anymore.
You're not generating enough leads and sales
It's not Mobile-Responsive
Updating Your Website Becomes Time-Consuming and Expensive
Company Branding Has Changed
The Website is Difficult to Navigate
It Features An Image Carousel
You Still Use Social Media Feeds On Your Page
Irrelevant Newsletter Pop-Ups
Your Homepage Is One Big Image
You Have a Sidebar on Your Homepage
Using Obvious, Overused Stock Photographs
It Takes an Eternity to Load
Inconsistent Fonts
It Isn't SSL Certified
Your Desktop Site Uses Hamburger Icons
Subtle changes happen gradually, so it may be difficult to notice them when they're happening.
If you're not outsourcing your website design or using an online website management service, this is especially true.
Because if you manage the design, you might be limiting yourself by only designing from your perspective.
This may make it difficult to analyze what you've gotten wrong.
How Did You End Up With an Outdated Website?
Nothing is constant, except change itself.
Maybe it was never really up-to-date, but chances are high you liked it at one point in time.
So what happened?
Probably one of these:
Technology developed and your website is a pain to manage
Your business changed and the website doesn't represent your brand anymore
Your products and services changed
Design trends moved on and people don't like the user experience
Your conversion rate dropped which impacts your business growth negatively
Here we discuss 15 signs you can look for to determine whether your website is going through a design change:
Do You Know Your Website's Hidden Growth Potential?
Take our conversion-focused web design test and see if your website is designed for conversions or just looks good.
1. You're not generating enough leads and sales
If you're interested in growing your business through your website, the conversion rate of the pages on your site should be your most important measure of success.
Outside of paid traffic channels, you don't have 100% control over the number of people who visit your site every month.
You don't control Google's algorithm and you don't control how many people will view your organic social media posts, but you can control your content and how you share it.
What you do control though, is your web design and content.
If you can't make your visitors interested enough so they'll want to buy from you or contact you, then what is your website for??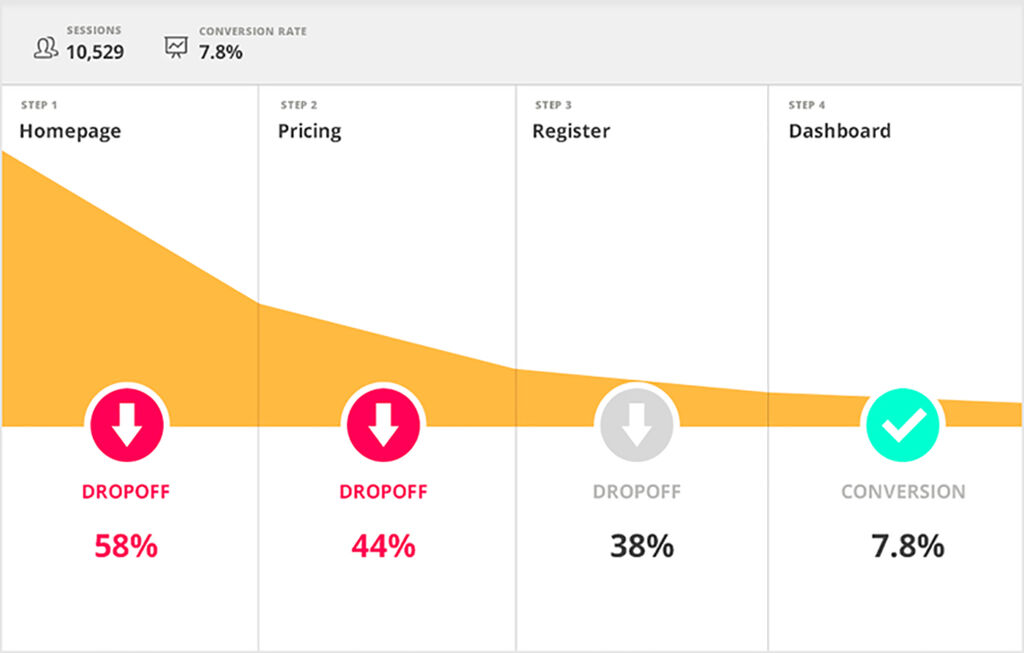 So have you noticed fewer and fewer people converting to your pages?
If yes, you want to consider a website makeover.
Of course, you can only answer this question if you track your conversion with tools.
But if you don't, ask yourself.
How will you ever know how to optimize your website for higher conversions over time?
2. Not Mobile-Responsive? The most obvious sign that you have an outdated website
You might think that that's a given in 2019.
But unfortunately, the number of websites I come across that are still not completely mobile responsive is shocking.
Mobile phone usage has increased significantly in recent years, with 52.2 percent of all web traffic coming from mobile devices in 2018 compared to 50.3 percent in 2017.
Therefore, you not only need a website that Google detects as mobile-friendly. You need a 'Mobile-First' web design approach.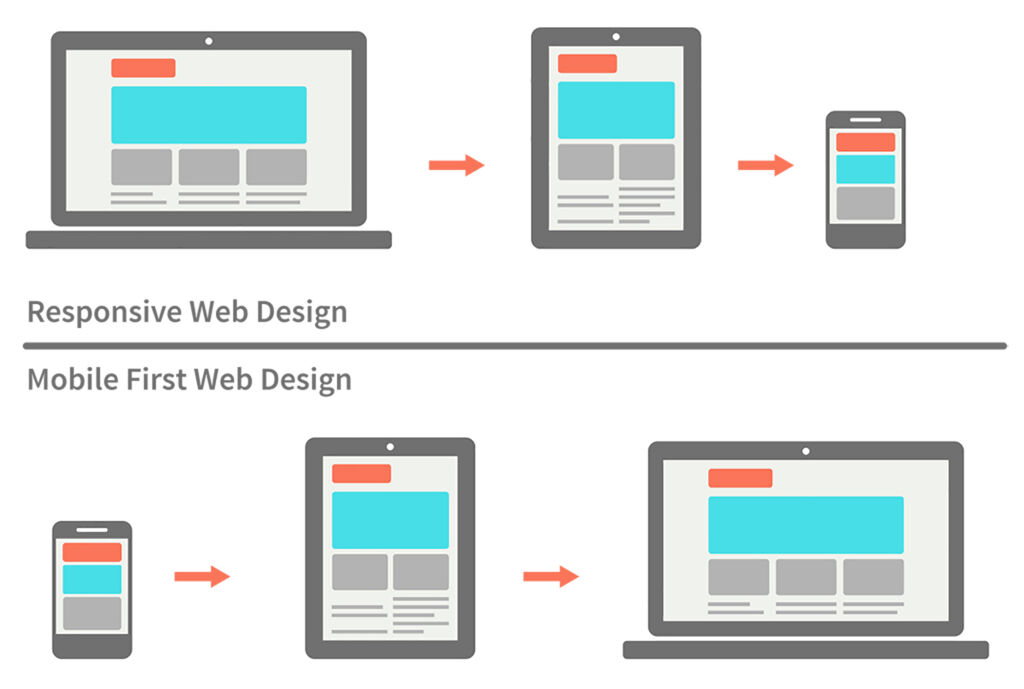 3. Updating Your Website Becomes Time-Consuming and Expensive
Websites aren't built the same way they used to be five years ago.
Technology has evolved and allows us to design even more advanced designs.
With the help of tools like WordPress, managing and updating content isn't as difficult as it used to be.
However, there are still agencies that build websites on their content management system instead of using WordPress.
They then make their clients dependent on them and charge up to 150 dollars for any little update.
If you're in such an agreement, then it is worth looking for alternative options.
It can save you lots of money in the long run.
4. Your Company Branding Has Changed
Your business is evolving.
Looking back a couple of years, some things are not the same anymore:
Your products and services
Your market
Your customers
As the average website use time increases from 2-3 years to the current speed of change in the business world, it's clear that we need to be constantly refreshing our website design.
And I've never talked about your web design, so I'm not sure why you think I'm talking about your branding.
That doesn't mean that you need to do a complete rebranding.
But you should always be keeping up with current trends.
Instead of just accepting your outdated website, accept that your website will always go out of fashion.
Sooner or later.
5. Your Website is Difficult to Navigate
Many people have trouble navigating websites because they don't know where things are located.
Design is not the only thing that matters when it comes to good web design.
Most web browsers are designed to help people find critical information quickly and easily.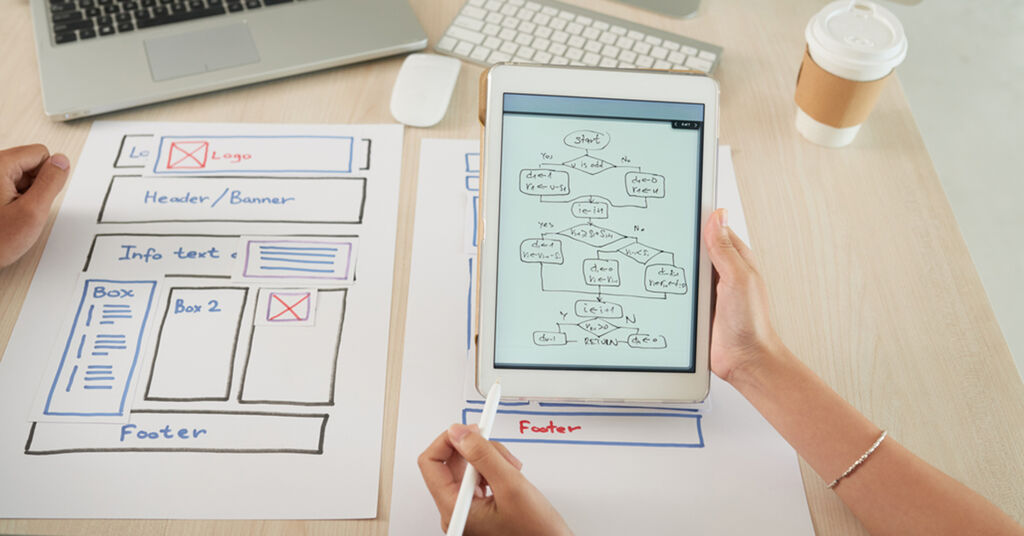 As Steve Jobs said it so well:
It's not just what it looks like and feels like. Design is how it works.
So make sure your site is easy to navigate.
Testing is the only way to ensure that you're providing the best user experience for your users.
Try not to avoid uncomfortable situations when receiving constructive criticism.
Make sure that your website has good navigation so that visitors can easily find what they're looking for.
6. Your Website Features An Image Carousel
Sliders or website banners used to work well. However, as with any trend, excessive use can lead to negative consequences.
The idea is to design a website that incorporates your brand in its color scheme, themes, and fonts so that it looks like your own.
When brands attempt to shove too many promotions down our throats, it comes across more as spammy than useful.
The bottom line is that clutter kills a website.
84.6% percent of people who visit a website leave if they feel that the site is too crowded or busy-looking.
Pretty much all experts agree on this point:
Image sliders kill your conversion rate!
You can learn more about the reasons in this article by ConversionXL.
Slideshows that include a lot of text and pictures can be a big turn-off for potential clients.
Poor design, overwhelming text, and overuse of graphics are clear, obvious signs that your website is suffering.
7. You Still Use Social Media Feeds On Your Page
This is a clear sign that you ended up with an outdated website.
We know that you'd love to grow your following on Twitter, Facebook, and Instagram, and get on the top of your social media.
But don't believe us when we tell you that displaying your feeds at randomly placed locations on your homepage isn't doing you any favors, at all.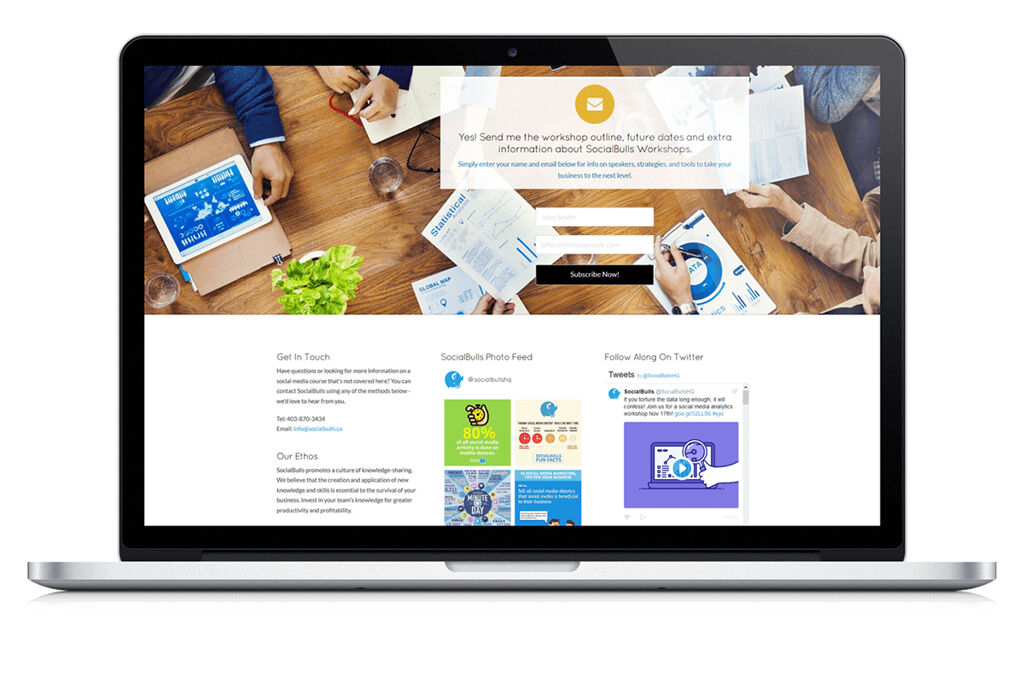 It doesn't mean that you shouldn't indicate any kind of social media presence at all.
However, it gives off the impression that you're either trying too hard or just having to fill up space with content.
A simpler, much fresher alternative is simple icons with clickable links.
8. You Annoy Your Visitors With Irrelevant Newsletter Pop-Ups
You've finally gotten a customer on your site but then annoyed them by popping up an over-enthusiasm pop-up after just three seconds.
Don't get me wrong. Pop-ups still work!
Especially when they are personalized.
Our site pop-ups convert, on average, 5% of all website visitors into subscribers.
The problem is more with:
Time of the pop-up trigger
Offer on the pop-up
If you don't offer something valuable to your subscribers, nobody is going to sign up for your company newsletter.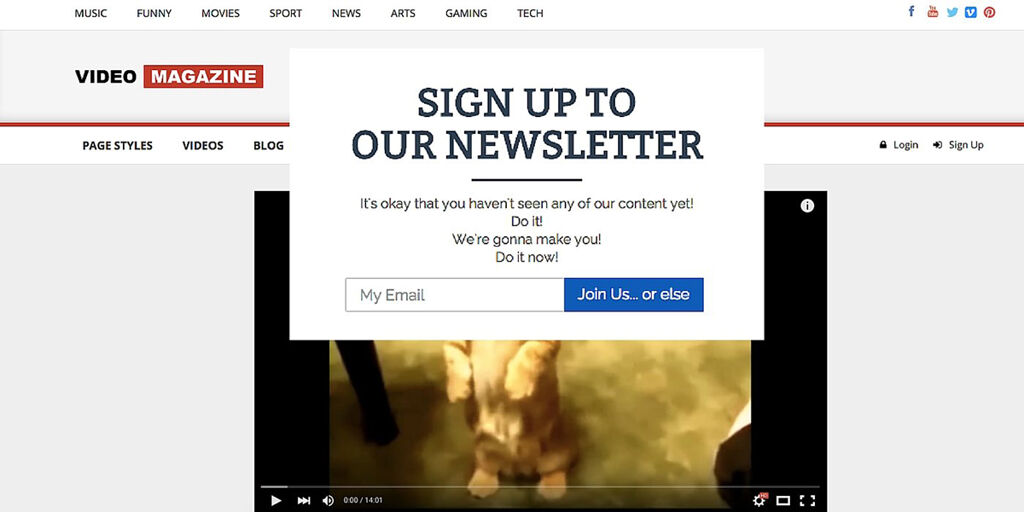 Furthermore, you will also want to consider where these pop-ups appear and on which pages they show up.
Fortunately, this is easy to fix and doesn't require a complete website redesign.
But it is part of your overall user experience that doesn't stop at the design.
Pop-ups that disrupt the user experience without offering any value are a clear indication of an outdated website.
Or just a business without any thought for its website visitors and thinking about ways to provide more valuable content.
9. Your Homepage Is One Big Image (That Doesn't Tell Your Visitors What You Do)
The one image design or a "hero" image, if you prefer, isn't that bad.
The problem occurs when it's not just the face of your website but also the entire body of your website that makes noticing the actual content hard.
It often comes at the expense of pushing down important and relevant content that your readers came to see.
A less intuitive user might even leave the site if there's no clear enough indication that they need to scroll down to access the content.
Your website's central focus should be drawing a clear line between what you want people to see and what they don't want them to see.
10. Do You Have a Sidebar on Your Homepage? This Screams 'Outdated Website'!
The rules with sidebar menus aren't as clear-cut as the rest. It depends on the kind of website you have.
However, if you don't run a magazine-style blog site, the rule is simple:
No sidebars on your homepage!
On your blog, using a sidebar can be useful for displaying additional content.
However, as you can see, since we decided to go without a navigation bar, we preferred to keep the user's focus on the content rather than on the navigation bar.
You may need to try different options like "recently viewed" or "related posts" and see which ones work best for you.
You'll usually want to keep things as simple and "visually clean" as possible.
Where you have to draw the line, however, is at using two sidebars and centering your content.
It means that your website needs to be changed. Imagine the horror of scrolling through an online store with two cluttered sidebars that contain flashy animations.
11. Using Obvious, Overused Stock Photographs
Yes, web design costs can be already super expensive if you don't have to pay for photos too.
But using pictures that are so blatantly stock images, simply isn't worth it.
They aren't professional-looking, they're unrealistic, and while you might have to limit yourself to an affordable budget, your customers don't need to know that.
Now, this doesn't mean you should avoid stock images. It just means you need to get better at choosing them.
Great places to find free and non-cheesy images are:
You need to take better photos that look more realistic, less common, and align with your brand.
But using images from popular sites like Unsplash that get thousands of downloads every day is not a good idea either.
12. It Takes an Eternity to Load
53% of a web page's visitors leave if it takes longer than 15 seconds to load.
It's safe to assume that this number will most likely increase over time.
If your website loads slowly because it contains large images and graphics, then it probably has a slow loading speed.
User experience (UX) is the trend of the moment, and slow internet connections are a direct contradiction to that.
Depending on where you live, this can be especially harmful because some places have slower internet speeds.
To determine your website's performance, you must identify its speed based on the geographic region of your audience.
It is also useful to use common elements of web design to ensure uniformity and a faster loading time.
13. Inconsistent Fonts
Poorly designed fonts on your website are just one more example of poor branding.
If your brand has not yet identified its own font, it's high time it did.
Inconsistent font choices reflect an amateur designer's lack of skill. They are also visually unappealing.
People appreciate symmetrical, consistent, and uniform structures and designs.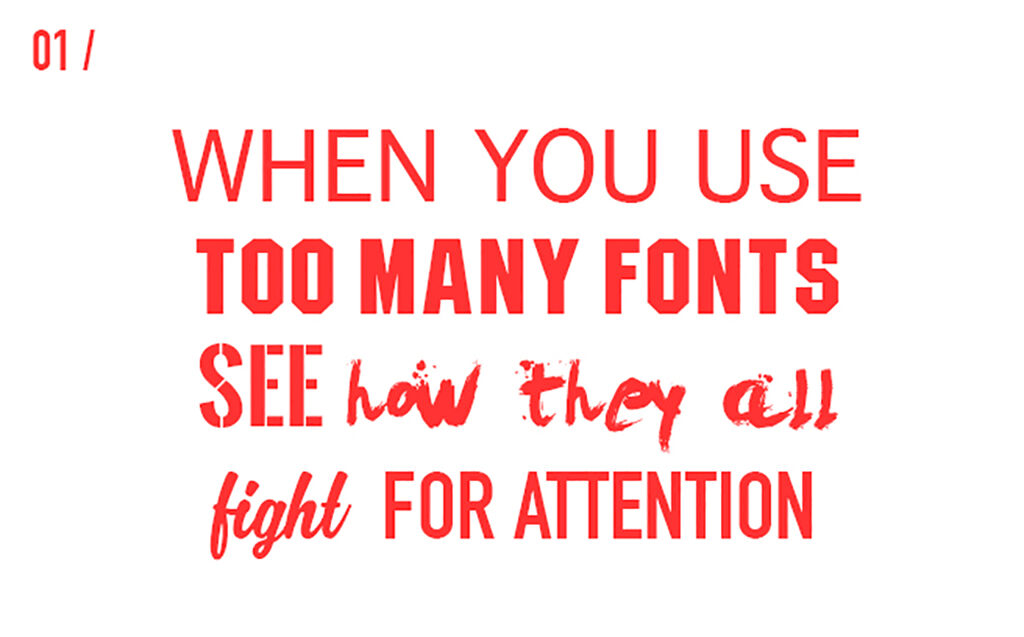 There are thousands of free fonts available. You simply have no excuse for using any other font than the ones you've chosen.
14. Your Website Isn't SSL Certified
This wasn't such a problem, until recently. With all the privacy concerns, people are becoming more paranoid, afraid, etc.
To be honest, an SSL certificate is now the absolute bare minimum your website needs in order to inspire any amount of confidence from the average user.
If you don't know what it is, SSL stands for secure sockets layer and an SSL certificate is an HTTPS protocol that ensures a secure connection from a web server to a web browser.
It doesn't just impact your rankings, but it also impacts your user trust.
Without this certification, your site is also likely to proceed with a fatal warning "this website is not secure".
This will cause a majority of users to opt-out of visiting your site immediately.
An SSL certificate helps keep your site safe from potential hackers.
It's a win-win situation because you get to keep the money you've earned.
Hamburger icons don't necessarily serve a purpose, but if you use them, they won't be necessary on mobile websites.
They're so popular because they work well on mobile devices to reduce clutter and are considerably easier to navigate on a small screen.
On a desktop screen, you have plenty of room for icons and that small one may just be overlooked.
It would be even worse if users had to go through a long list of options to search.
Finally, the structure of a Hamburger menu can be quite difficult to understand for someone who isn't particularly tech-savvy, so here's an example of how it works.
The idea is to keep your website as simple as possible.
You never know who's going to pay a visit!
Do You Know Your Website's Hidden Growth Potential?
Take our conversion-focused web design test and see if your website is designed for conversions or not.
Outdated Website: Do You Need a Couple of Tweaks or a Complete Redesign?
You might have discovered that you either already have some of these designs or that you're going to need to create a few of them yourself!
This begs the question, what do you do with outdated websites?
Would you redesign the whole thing or just a few things?
Don't sweat it.
We're here for you.
Contact us anytime and we'll help you determine ways to improve your website's effectiveness.
Whether you want to create your blog posts, or require the services of professional corporate blog writers to produce regular, quality content for your website, MyBlogPoster.com has you covered.