The use of social media sites for brands is almost universal. Statista claims that 94% of consumer marketers use Facebook, while 94% of B2B marketers use LinkedIn.
1. Put movement into your images
A cinemagraph is a GIF that loops and shows one or more elements in motion in a social feed. Cinemagraphs add movement to still photos. Depending on the application needed, they can be packaged as GIFs or videos.
"In today's age of information overload, it's harder than ever to keep track of everything, and this could be the medium that does it," writes author and social media strategist Jessica Gioglio in a post on Convince and Convert Motionleap (formerly known as Pixaloop) is an app that makes photo animation fun with a wealth of extraordinary impacts, elements, backgrounds, overlays and more. Users often add splashes and flashes include camera movement and use effects to make the weather more dramatic.
2. Spell out your message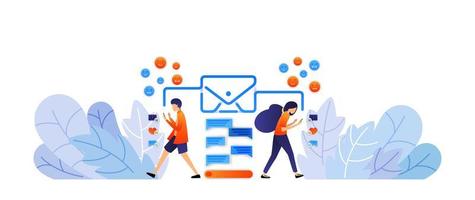 As I scrolled with my Facebook feed, I had to stop to read the following ad simply because the entire message was presented in just a few words. While a static post like this might not have caught my attention, the "slow feed" approach provided not only movement but also a sense of suspense that made me pause until the entire message was clarified.
3. Stylize your stories
Stories are not only a big part of Instagram's popularity but also a big (and growing) hit on Facebook. Hootsuite's blog states that 500 million people use Instagram Stories every day and that one-third of the most-viewed Stories are from businesses. Even LinkedIn is now getting in on the stories' action.
Stories are an important channel for brands and offer a way to deliver entertaining content that looks and feels more customized. While the Stories feature of the different channels gives you a certain amount of flexibility to present visual content the way you want, there are now apps that elevate story creation to an art form.
An example of a story created with an Unfold template Unfold is an iPhone app from SquareSpace that lets you quickly produce engaging stories by starting with elegant themes. You can include image filters, stickers, textures, and histories. A Brand Kit is readily available to make it easy to reuse elements like colors, fonts, and logos for consistent branding. The example above is from the brand page on the Unfold website, which shows how to apply the brand kit.
4. Start with storyboards or templates
The time and talent required to create videos deter many marketers. Understandably, the possibility of scripting, casting, staging, lighting, and editing isn't for everyone. If that applies to you, stay tuned for two compelling solutions.
Open stories. An AI video editor converts your content into videos. You can edit the content (both message and images), apply any theme, select music, and add a voice-over. While you can go manual, you can also kick off the process by typing in a paragraph or URL.
Example of video content developed with Openstories Boosted
It is a web and mobile app that makes creating a one-shot video advertisement for social media is quick and easy. It's ideal for advertising a product, sale, event, and more. You begin with a template optimized for the social media channel of your choice, then customize each media element as needed. Pixabay video clips are offered for free, or you can upload your video or picture.
The instance of a video ad created with Boosted.
5. subtitle your videos
According to Digiday, 85% of Facebook and Instagram users watch videos on these platforms without sound. The apparent solution: add subtitles. "Videos slow down scrolling, but subtitles get them engaged," writes Andy Crestodina, a guest post for TechSmith. He claims that captions inform viewers what the video is about, help engage foreign speakers and the hard of hearing, and ensure that those in noisy environments don't miss anything.
An example of content created with Type Studio is a crazy fantastic tool that does the subtitling for you and gives you the ability to edit a video by editing the text. You delete a passage from the message of your video, and the video responds by magically doing the same.
6. Create carousels
Carousel posts and ads have been proven to increase engagement.
Social Insider reports that carousels on Instagram generate the highest average engagement. Shortly after launching the format, Facebook reported that carousel ads had lower conversion costs and higher engagement.
7. Go live
Social media is currently a vehicle to deliver video web content straight to your prospects and clients. You can broadcast on YouTube, Facebook, Instagram, Twitter, and LinkedIn to reveal new items, develop demonstrations or how-to videos, broadcast occasions, and host webinars.
According to Sprout Social, Facebook users are four times more likely to watch live streams than recorded videos. Livestream marketing increases your audience's purchase intent by 97% and strengthens brand association by 139%, according to Business News Daily Try it. Livestreaming is low-cost (er, accessible), engaging, and its transparency fosters trust.
Experiment with strategies to stop scrolling
With or without knowledge of graphic design and video production, it's now easy to produce visual content to capture the attention of social media users. Try the tools and tactics presented here to make visual marketing an integral part of your content marketing and digital advertising strategy.
If you're looking for influence, here are My Blog Poster articles that may help.